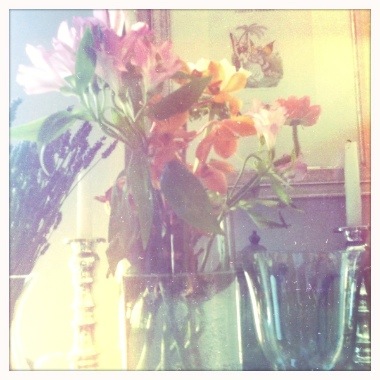 This eclipse really started the New Year off with a bang didn't it??? I don't know about you all but it was like some kind of whirlwind just blew in on January 4th and it's barely let up! I flew from Oregon to New York all day on the 4th, arriving back at my apartment just before midnight to find that there was a ginormous hole in my ceiling (in addition to the smaller one that came earlier in the year with the tornado) due to the all the snow melting and dripping in from the roof! Not only was there a hole, but when I tried to snuggle into bed I realized where all the water went!
After having stripped the bed, laid out trash bags over the remaining futon mattress (which btw Protect-a-Bed did a great job of protecting from the water although the terrycloth covering over the plastic was soaked, and I kind of think that the comforter and featherbed soaked up much of the water before it hit the base futon) I tried to get some sleep before starting my new job less than 8 hours later!
First day of new job was spent putting out fires that happened when I was away. Next day it was announced that there would be a big change in management effective immediately! Luckily I really like my new boss, although I will say it was quite a lot of change for one's first week on the job! More and more I'm learning that change is the rule, not the exception!
My weekend has been spent doing load after load of smelly and slightly moldy laundry! I think I've almost finished it all, which is good because I don't want to have to do laundry for a while! I think I spent $40 this weekend alone at the laundry machines in my building. The good news is that the building management came and have started repairing the holes, which is great because it's kind of a bummer to wake up and the first thing you see laying in bed while looking at the ceiling is a ginormous hole.
So how was everyone else's BIG eclipse day? Any news to report? I'd love to hear what's going on with you and for you to share!
In the meantime, here is the Solar Eclipse New Moon Mix for the January 4th New Moon! Sorry it's a bit late, but better late than never, right?

---