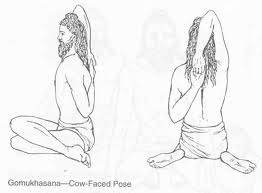 People have been asking me if I have any New Year's Resolutions. I've been a bit hesitant to answer them truthfully and usually just say "I have a long To-Do list for 2011" because it sounds silly that a yoga pose can be a New Year's Resolution. But it is for me!
I've always considered myself a perpetual beginner with yoga. Although after years I can now do most yoga poses without falling over, it wasn't always so. I used to audibly groan in yoga classes and sometimes even blurt out "You've GOT to be kidding me!" when a teacher would take us through a terribly challenging sequence. I'm surprised I didn't get kicked out of class some days I was so resistant. And while in many ways my fitness and flexibility have increased with the practice of yoga over the years I have noticed that some poses are now difficult, if not just plain impossible to do like I used to.
Take for instance, Gomukasana. Also known as Cow Face Pose, I assume this is because of the look on one's face that one gets when one is practicing it. It is both an intense hip opener and an intense shoulder opener. And I used to be able to do Gomukasana arms with my hands touching no problem. But that was in my 20's. Now they are as far apart as Brad Pitt and Jennifer Anniston. I assume this is because of years of office and computer work but whatever the reason, it's no excuse not to do something about it!
So this year is the year of trying to "Get my Gomukasana Arms Back!" Although not as exciting as "How Stella Got Her Groove Back" I do hope to have some success by the end of the year! Of course, I'm starting out with a strap doing said pose, and hoping that with baby steps my hands will inch their way together. But also, before going to bed, I've been doing the arm portion of the pose while lying down. It allows my shoulders to let gravity help do some of the work of opening up the muscles.
If I make progress with this it may become an annual New Year's Resolution to choose a particularly hard yoga pose and give myself a year to work on it. It takes years to become inflexible and out of shape so it makes sense that it would take at least a year to get back into shape! As they say, baby steps!
---