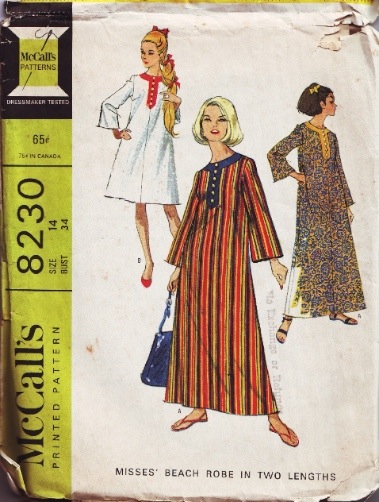 Soon I will be traveling to a place where I'll wake up with the sound of the ocean close by. I'll walk to the beach and watch the sunrise while having a cup of coffee, and then start my day with some yoga! No, it's not a dream, I'm going on a yoga retreat in Mexico!
I have a caftan that looks almost exactly like the russet striped one in this pattern from the 60's. I almost wore nothing except this caftan for an entire week the last time I went on a yoga retreat. And I plan to do it again soon! I joked with my friends who saw me in my daily garb (which they said looks very Joseph and the Amazing Technicolor Dreamcoat) that I will soon be starting a magazine entitled "Caftan Living." And guess what it will have in it? Caftans! Caftans for the beach, caftans for work, caftans for play! Caftans all the time!
But in all seriousness, there's something very nice about going away to a place with very little cell phone reception or internet and just BE-ing yourself with a group of like-minded people who really don't care if you wear the same 60's-70's-esque garb every day! This is not a terribly self-serious group, and certainly we are not a bunch of ascetics (or else I wouldn't be able to make the joke that we were all practicing vino-yoga!). And sometimes I feel like it's more laughter-yoga as well! It's a great pattern to try and bring back to one's daily living of being "in the moment" but also dreaming up new creative ideas for future endeavors! I find it's become a way to not only get fully in touch with oneself, but also to make positive changes in ones life long term. Although I love the kind of travel where one goes from museum to restaurant back to museum there's no substitute for going to a place and just planting yourself. In the sand in this case. And staying there for as long as possible while you consider your life to the tune of the waves with the wind in your face.
I've prepared some entries ahead of time for when I'm gone, so I hope you enjoy those while I am away. I can assure you I will be the most tan I can ever get when I get back (which won't be that much!). Hopefully I will be rested up, and have had many good visioning sessions, by the time I return! Who knows, maybe I'll be ready to start "Caftan Living" for real!
---