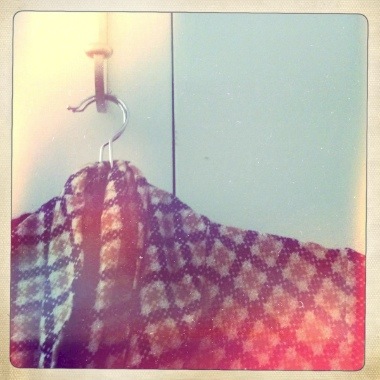 I'm not sure why it took me so long to think of this organizing idea! I'm always trying to find new "space" within my apartment and enjoy utilizing every square inch to it's fullest! But I think it started during the holidays, when I went to the Container Store to find an over the door hook for my jingle bell wreath for my front door. They were all out of the ones that were specifically for wreaths, as those needed to be longer than the other ones they had there. So I stood starting at ALL the different over the door hooks available. And believe me, there are many!
Realizing that none would do for my wreath, I of course, went across the street to Bed, Bath, and Beyond and hounded the salesman until he showed me where their over the door wreath hangers were. There was only one choice, but I took it.
However, once home I got to thinking about all of those other over the door hangers, realizing I have quite a few doors that could use one! I realized with glee that if I got over the door hangers, even single ones, I could put out an outfit ahead of time the night before, like they do with valets, except I wouldn't have to waste floor space with a valet. Immediately I knew I had to go back to the Container Store to get some hooks!
On my next visit I decided to go with the Nickel Duchess hook, as it's brushed metal appealed to me. I got five of them. I also got on a later visit a Nickel Duchess 5 Hook over door rack for my front door as I realized that I'm always having to decide what hat or scarf or whatever to wear in the mornings as I am running out, and that it's SO much easier if said items are right in front of you as you're about ready to leave said door! I really don't like too much choice in the morning, I just want to grab n' go between a couple of different items.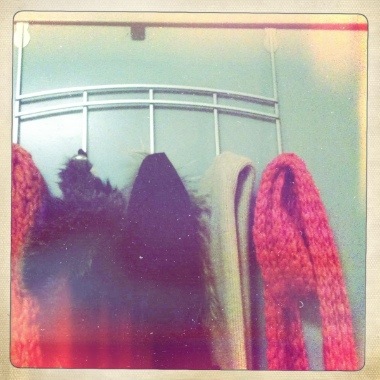 In reflection, I wondered why this idea hadn't occurred to me sooner, only because several years ago I got frustrated with always having to open drawers to choose what bra I was going to wear for the day and decided that I would get several flowery hook racks from Anthropologie to go on the wall just inside the closet so that I can view and decide what I'll be wearing for the day.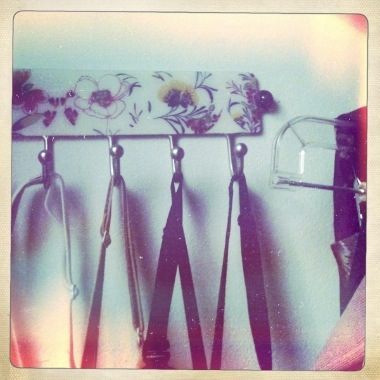 The best part of all of this, is that if for some reason I get sick of all these hooks, I can just take them down as easily as I put them up! But so far I'm hooked on them!
---