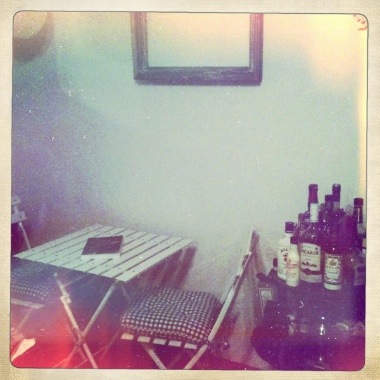 It's been a busy couple of Spring weeks with friends in town and trying to pack as much as possible into a day. Perhaps that's why I started feeling something I normally do not. I began to feel claustrophobic, in my own apartment. It's an easy thing to do in New York, when most people live in tiny rooms with little storage space. But I began to long for a kind of airy, empty surrounding, one that would make one feel as light and spacious as it actually is.
Realizing that the only way to do this would be if I unburdened myself of some of my belongings, I most specifically targeted my books. I've been wanting to do this for a while, partly because I took so many interesting books at one job from their free table years ago. With my life, I'm never going to have time to read them all. And if I do have time to read some, I will be able to get them from the library. So this weekend, I started sorting, and wrote their titles in a word document as I pilled four bags full of them to give away outside my apartment for people to take (and they did!). It was so refreshing! And I finally realized that Spring Cleaning isn't only just about cleaning things after being cooped up in your apartment most of the Winter. It's about making space for new things in your life. Even if that "new thing" is simply a feeling of lightness and space.
My book sorting inevitably led to other, bolder moves. Although I love the changes that I've made this past winter to my bedroom, I realized I haven't done anything with the living room. So I set about moving around the furniture, setting up a bistro table and chairs in one corner that had previously been in the bedroom, but is now my yoga corner set up after my yoga retreat. I had to completely remove two other items of furniture and will still have to move a chair. Already I feel with the new blue gingham checked chair pads on my bistro chairs the space has more of the Swedish Gustavian look for which I'm aiming.
In yoga, teachers often talk about the poses creating space in your body. Space to breathe freely, space to relax. I feel like with regular yoga practice you not only realize to physically clean out the old and bring in the new in your body but also mentally. And that seems to translate to wanting more white space in our surroundings as well. The digital era has brought in endless amount of information, literally at our fingertips, so it's a joy to be able to not concentrate on "new information" when in our apartments.
Astrologically, I've found on multiple occasions when I've done big re-arrangements of furniture in spaces like this, that we've either been in a retrograde cycle or it's been in the Last Quarter Moon phase, especially within four days of the New Moon. Astrologers often say not to start "new things" until the start of the New Moon cycle, but I have found that there's a special time right before the New Moon when if you've been wanting to make a change, you can make it and things will fall into place very quickly! It's like there's something in the air facilitating the elimination of the old and the bringing in of a new structure. Try it the next time you're looking to change things up in your dwelling! We're still in this Last Quarter phase until early Tuesday morning so you still have time if you're inspired!
Who knows, with all of this Spring Cleaning and continual yoga, this Taurean may become a minimalist yet!
---