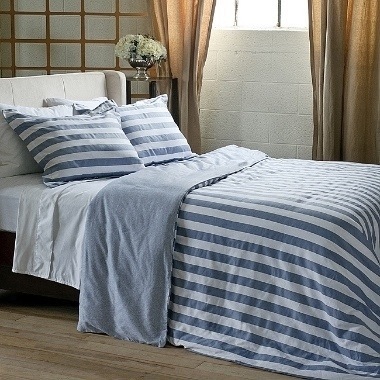 Spring is a wonderful time to try something new, and while Spring Cleaning is all well and good, sometimes you just need a change inside your apartment to mimic the changes and new growth going on outdoors.
This Fall, possibly due to several friends having bed-bud infestations, I became, well, a bit overly precautious. I developed what I called my "bed bug prevention" program! I decided that I needed to laundry bed linens (including the duvet) way more regularly than I do, and that meant having extra sets on hand as I knew I wouldn't be doing laundry at the exact time that I was going to need to change the sheets.
Actually I think this was just an excuse for me to justify buying several duvet and sheet sets. So I set about finding the most affordable and charming duvets and linens out there! Everyone knows about the heavy-hitters in duvet-land, Dwell Studio, Anthropologie, and the likes. But I personally don't feel that one should have to pay hundreds of dollars for a new look in the bedroom. So I went through Overstock.com and found dozens of options most under $100 and several even under $50!
Take for instance the above image of the Club Strip Duvet set, which for a Queen, is less than $35! Stripes are all the rage these days and this set will be perfect for the seaside Summer look!
Another place for designer looks that I would highly recommend would be West Elm. They have a wonderful selection of duvets and shams, with Queen sizes for under $100! I especially like the Organic Cotton Pintuck Duvet that comes in 8 shades, sure to coordinate with any room!
With prices this cheap why not have a duvet set for each season? It's amazing how simply changing a duvet set can completely re-design a room!
---