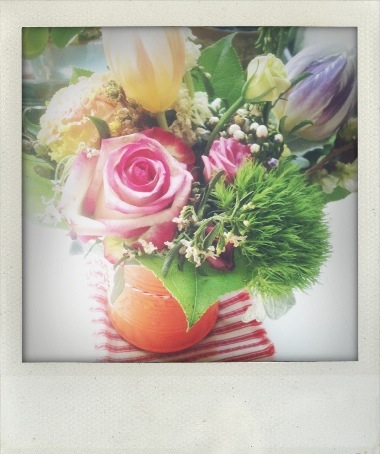 I've been a little "off the grid" lately during the past Mercury Retrograde. . . I took an almost two week vacation to Mexico, which included a one week yoga retreat, and then my boyfriend came down and we hung out on the beaches of Tulum together. It was amazing. And probably the first trip I've taken in a long time, where I came back rested and refreshed enough that I was glad to be back home. Ready for Spring!
Of course, it seems as though in many places of the US, Spring hasn't exactly sprung yet, with freezing lows and highs barely into the 40s, but there is a sense of renewal in the air even if it's crisp and cold. Given that astrologically, Pluto and Uranus are still squaring off relatively close to the Equinox and Solstices, these times are still times of "Big Change"! I'll be blogging a bit more about some thoughts that percolated up through my mind on the retreat, about Change in general, and it's important to know that if you're feeling the Push for Change right now, you're not alone!
What makes this Spring Equinox (which occurred March 20th, at 7:04 AM EDT) is that Mars, the planet of Assertiveness, gets into the Square, joining with the Sun and Uranus, squaring Pluto and the Moon, which is in it's natural sign of Cancer. There's a lot of explosive energy going on, so if it's possible to meditate on how you'd like to use this energy instead of making rash decisions, it would be wise to do so!
Thankfully, Mercury, which just went out of Retrograde on March 17th, makes a lovely Trine to both Saturn the planet of Preparedness, and the Moon, planet of Feelings. You may be able to think and feel your way to plan what's best for you now, and how to use the Fire Sign Trio of Sun, Mars, Uranus to your best purpose!
Utilize those remaining few weeks of weather that makes you want to stay indoors with a journal, thinking of things you'd like to change in the next three months of Spring! I'll be giving you ideas on how to achieve your goals in the weeks to come!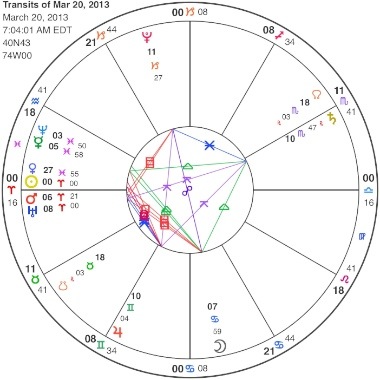 ---