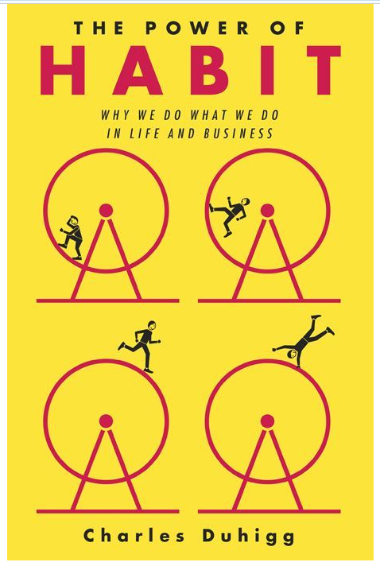 They say "April is the cruelest month" and I think now I know why. Technically TS Eliot said it was the cruelest month in his poem "The Waste Land" which starts out as follows:
April is the cruellest month, breeding
Lilacs out of the dead land, mixing
Memory and desire, stirring
Dull roots with spring rain.
It's a rather long poem, so I'll stop there. But I think we already get the picture, especially with the "Spring" we're having this year. It's cold, then it's warm, then it's very cold again. And we are distraught that Spring will never fully arrive, or not arrive soon enough!
In short there is too much of that dreaded word, Change! And yet we don't know where the changes are going. Are things getting better or are they getting worse? One step forward, two steps back?
Well, in my theme lately of talking about Change, I thought I'd share with you all a great book that a friend shared with me when I went last month on a yoga retreat to Mexico. The book is "The Power of Habit: Why we do what we do in life and business" by Charles Duhigg. I was eager to read it, given that I made the mistake of only bringing my book club book, which although a good read, was way too depressing for a trip to Mexico, and also didn't speak to the reflective mood that I was in, trying to assess my life in one of the few times I feel like I have a true "time out" from daily responsibilities.
The book did not disappoint! And in fact, I would say that it is one of those "life-changing" books if you take the time to digest it and read it thoroughly with an open mind. In essence, it has a tremendously positive message that anyone can change, but it also outlines how one can stay the same. It posits that we're all on our own little treadmill, that literally is a neural circuit in our brain, and that the only way to change our habits are to re-write them!
I'll let you read the book to get the full picture on exactly HOW to re-write your neural circuits, as the book is so straight forward and clear about how we end up in habits and how to change them so that we can better our lives.
Which is ironic considering the fact that when I started my retreat, I wasn't entirely sure what it was that I wanted to change in my life. I really love my life right now, although I have a tad too much going on (what New Yorker doesn't though?). However somehow I came out of the retreat with a clearer picture of areas that I actually do want to change. I DO want to eat better and healthier (the foodie lifestyle does not slim the waistline), and start a daily morning yoga practice at home as I know that it's too much to ask me to actually go to a morning yoga class and I can't seem to fit in a workout any other time. So far, I've been making great headway into each change of habit.
So while the temperatures go from 40's to 70's back to 40's again, take some time this April to think about your habits. Are they contributing to your daily well being? Is there just one habit that you would like to change? Our leader from the yoga retreat started off by asking us in essence the same question of us. Who knows, maybe if you're stuck, after reading the book, or even just meditating on this question, a life changing answer will appear!
---