April is the cruelest month, they say, but I think more accurately, it can be the most changeable month. And change can be hard, when the temperature is going from 80 to 40 in a day or two, and from bright Spring sun, to rain and sleet the next!
Something of a similar nature to the wild weather outside will be happening astrologically this month. Namely, the big event being Mars turning backwards on April the 17th, at 9 degrees Sagittarius, followed by Mercury going Retrograde on the 28th at 24 degrees Taurus. When Mars goes Retrograde Springing into Action like a Marvel Superhero is not advised! What is advised? Rest, relaxation, revision of a project from the past, or getting into contact with something or someone from the past that's unfinished business. Basically Mars Retrograde is a two and a half month Wrap-Up period when one's energies are best utilized revising projects that are already underway, and leaving new projects to wait to begin until we've wrapped up the Retrograde.
While any day past the 15th would probably not be the best day to initiate a new project, the second half of the month through June will be providing us with much needed Rest & Relaxation, as well as a valuable chance to Review what's happened to us in the past couple of months, Reassess what needs our attention the most, and then move forward with our newly Reinvented project or self come when the retrogrades are over and Direct motion begins again.
Are you ready for this intense time of Visioning and Introspection? Check out your horoscope to see what particular challenges lie ahead for your sign: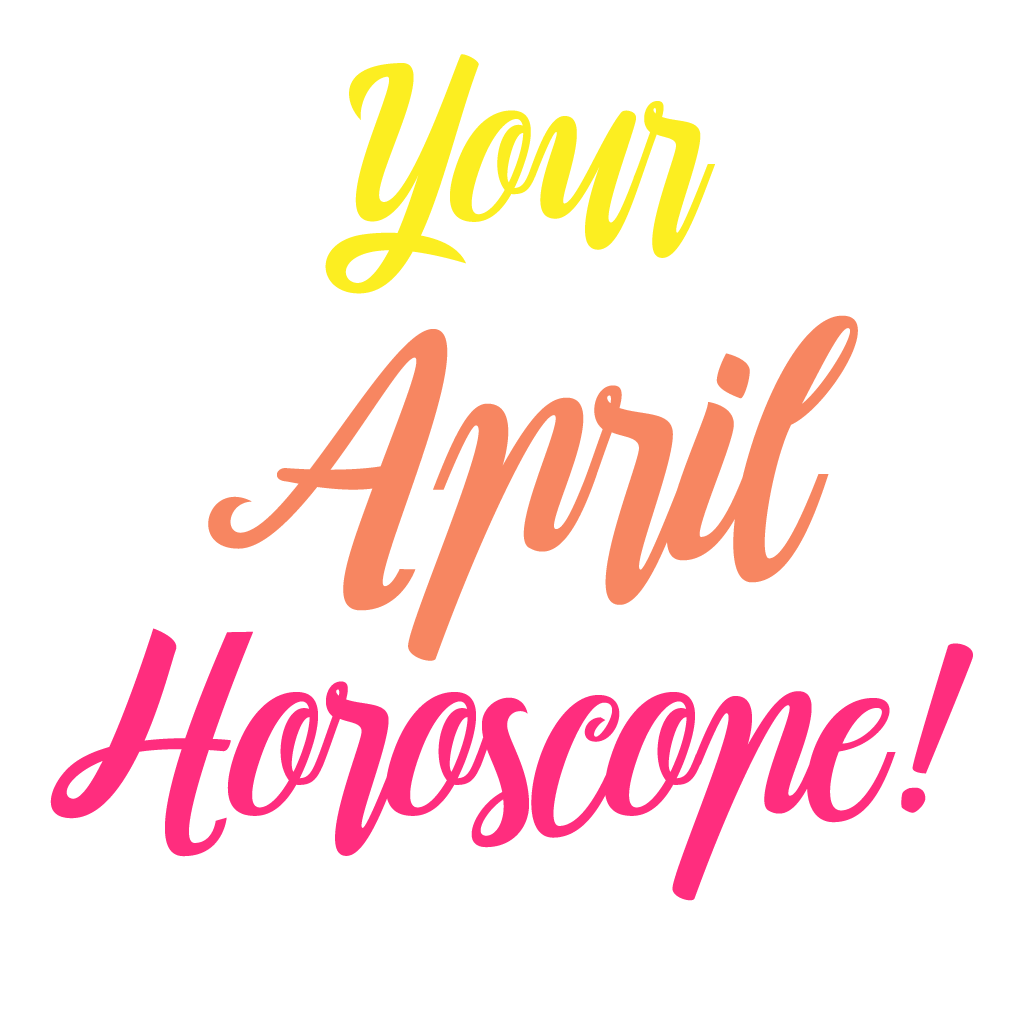 Aries
Key Dates: April 5, 9, 17
April is a double edged sword for Aries born, as there is ample get up and go prior to your ruler Mars going Retrograde on April 17th. Venus enters Aries on the 5th, joining the Sun, Uranus, and Mercury already there, giving you the love and attention you feel you've always deserved. These all are in the same harmonious Fire element as your rule Mars, and Saturn in Sagittarius. Pluto is challenging however in Capricorn, meaning you are being pushed to Transform yourself.
But you may say to yourself, how can I when I'm running around doing so many things? The Mars Retrograde is going to give you all the time you need to Reinvent and Transform yourself over the next couple of months. On April 9th you could have a sudden inspiration that you could become the theme of your Mars Retrograde, as Uranus conjuncts the Sun in Aries that Saturday. Use the Retrograde to think through things before acting.
While Mars likes to move Forwards not Backwards, remember that all things need Rest in order to function to their best and that includes you Aries. Glam it up and plan a girls day at the spa, or take a walk in the park with the cherry blossoms, or sit and read a book in a cafe. You deserve some Me-Time and now you're going to get it!

Taurus
Key Dates: April 12, 18, 19, 28
Spring can be a time when the Bulls are more prone to dreaming than they normally would be. Why? Because Aries falls in their 12th house of Visioning, Spirituality, and Reinvention! And right now The Sun, Uranus, and Mercury are all there, providing a real opportunity for Taureans to take a good hard look at how they might want to Reinvent themselves. And this is already before Mars goes Retrograde on April 17th!
How are you really doing Taurus? Do you need to lighten your psychological load a bit? April, May, and June are great times to see a therapist to do psychological to do some Spring cleaning, and also a great time to physically pare down as well! Letting go of possessions that you no longer love or use, can allow you to feel more free, so especially once Mars turns Retrograde, and even more so once Mercury turns Retrograde as well on the 28th, start to clean out the clutter of your life!
Remember that the more outdated Tchotchkes you give away to charity, and the more you let go psychologically of anxiety and outdated thoughts from the past, the more you'll be able to be in the moment and be less distracted by your environment you'll be. In other words, you'll be that contented cow munching on Spring grass instead of a raging bull running around getting nowhere.
Take advantage of April 12th when your ruler Venus is Trine Mars, to enjoy the Spring with a little romance before getting to the heavy lifting of purging after April 17th. The wind will have your back on April 18th when Venus Trines Saturn, but the next day will be challenging as on the 19th Venus will Square Pluto, and you'll want to change everything immediately but be unable to. Take your time, as the Sun enters your sign that day also, allowing you to really take stock of your life for the next month.

Gemini
Key Dates: 12, 14, 28
Like all the other signs, it's best to get your ducks in a row before the second half of this month dear Gemini. The Twins are going to be especially affected towards the end of this month when Mercury, your Ruler goes Retrograde at 24 degrees Taurus, and will stay Retrograde until May 22nd.
Mercury is going Retrograde in your 12th house, Gemini, so this is a great time to start a meditation practice, or other Spirituality practice, along with visioning and journaling. It's also a great time to go on a Yoga Retreat, or other type of Retreat, where you really take a hard look inside at your thoughts and how your internal dialogue and inner thoughts are in fact contributing to the choices you've made in your life and how your outer life looks. While we cannot control certain things, the sages of the world have always told us that if we can discipline our thoughts and not have them run out of control, our environment will benefit, as we will make better choices given whatever outer circumstances we encounter.
Retrogrades, and planets transiting our 12th house, help with this discovery process, so take advantage of the urge to look inward in the later half of this month and especially May! Mars is going Retrograde in the 17th in your sign of relationships, in Sagittarius, so in addition to thinking about your own inner thoughts, you will be contemplating your partnerships and how they affect you, until the end of June.
I always advise people not to initiate things during a Retrograde, or even take drastic measures in either direction. So, for instance, if your relationships are rocky during this time, don't rush to conclusions until even August when Mars starts to begin to be out of the degrees that it is going to Retrograde from April through the end of June. All relationships involve periods of reflection and re-evaluation, and personally I think it's better to wait to decide a relationships fate until AFTER Retrograde periods, as it sometimes is possible that issues will clear up once the planet goes direct. Conversely, sometimes when things are going strangely well during a Retrograde period, you can find that after the planet goes Direct, you'll discover something that wasn't quite right, and realize that all the progress you thought you were making moving forwards in fact has to be redone. So that's why it's important to realize that Retrogrades favor re-thinking rather than forward motion.
Your best day this month, might arguably be the 14th when Jupiter Trines Mercury, your Ruler, in Taurus. The 12th is great also, providing an ability to envision projects for the future, especially creative projects, with Mercury Sextile Neptune, the Creativity and Spirituality Planet!
Cancer
Key Dates: April 7, 21
Cancerians are always affected by the Moon, and the Moon and the Sun are the only astrological bodies that do not Retrograde. This does not mean however that you won't be affected by the Mars Retrograde starting on April 17th. In fact, as Mars rules your Career, and the sign, Sagittarius, that Mars is Retrograding in, rules your Work area, you could see major changes to your Career and Work life dear Cancer!
It's possible that with the Mars Shadow, which began around February 17th, that you already are feeling the BIG Changes that Mars is going to initiate! Perhaps you were laid off from your job, or others in your company were laid off and you were given more work, or perhaps you simply realize you need to reinvent yourself career-wise! The good news is that this Mars Retrograde from the 17th through the end of June, and even afterwards in the post-Retrograde Shadow through August, will give you a much needed opportunity to think about your Career, and your Work and what it is that you really want to do with your life! In the U.S.A., which is a Cancerian country, one's job and career are SUCH an important part of our identity, it is hard when you might not be feeling so certain or secure in these areas. As a Cancerian country also the Mars Retrograde will be highlighting jobs in the USA, and how some people are doing well, and others are not.
Do not fret if during this Spring and Summer you are going through a bit on an existential crisis career-wise. Sometimes one needs this kind of change to find the most fulfilling career possible. It's often said that people have up to seven or more careers in their lifetime, so do not worry if you're changing again. Like a crab that is trying to find a bigger shell after shedding a small one, you might feel exposed and extremely sensitive during this time, but once you find your new shell, your new career or job, you will start feeling much better!
It's possible also that you may encounter some kind of Health crisis, during this time, so if that's the case, use this time to relax and heal.
Important dates include the New Moon on April 7th at 18 degrees Aries, which should initiate something new for you in your Career, although with Mars going Retrograde on the 17th, you might have to wait a while, perhaps even until July or August, to really implement or see the fruits of this new beginning. The Full Moon in Scorpio on April 21st has the Moon Trine Neptune, which means something lovely should be coming to fruition for you Cancer. Perhaps it's something that you even began 6 months ago, but whatever it is, know that you have earned it with your hard work!

Leo
Key Dates: April 5, 9, 21
Leo is ruled by a planet, the Sun, that does not go Retrograde. Perhaps that is one reason Leo's always seem to be able to radiate courage, strength, and stability–their ruler the Sun, shines just as brightly one day as the next, it's only for the presence of clouds for those of us on Earth to not know this. So, while Leos will not be as affected as those born under the sign of Aries, they will find areas of their chart, and their lives, that are ruled by the planet Mars and the sign Aries will cloud up considerably starting mid April through the end of June. The main areas of your life that will be affected are the 9th house, and it rules Travel, Higher Education, and Legal Issues, the 5th House of Creativity and Children, and the 4th House of Home Life.
Usually Leos walk with Pride and enjoy moving out of their current sphere to mix and mingle with people who have different traditions, languages, and beliefs than themselves. However this Retrograde may prove to be a time, when in fact the Leo may not want to travel to a new land, or may have delays going back to school, or a legal set back. This is especially true since Mars will start its Retrograde in the planet of Sagittarius, which also coincidentally is that planet of long-distance travel, greater education, and the court system.
Leos also might have a set-back in the area of Creativity and potentially Home-life areas, as the Retrograde will start off in your 5th house of Children and Creative areas, and then move back into your Home Life house once Mars regresses back into Scorpio. In short, this will be a time when you will be rethinking yourself, your home base, and how you want to learn and grow beyond your personal boundaries that you currently have.
April 5th will be a great day to shine when the Sun is Trine Saturn, giving you the potential to set in motion long range plans. On the 9th, the Sun is conjunct Uranus and you will find sudden inspiration and be called to action in a way that you might never have expected. The 21st may illuminate a home life issue that will become a focus during the Mars Retrograde itself.

Virgo
Key Dates: April 12, 14, 28
Virgos are ruled by Mercury, so will find the most challenge later this month when their Ruler goes Retrograde in the sign of Taurus, their 9th house of Travel, Higher Education, and Legal Issues. Maybe you're thinking about planning an around the world trip, or going back to school, or need to clear up some kind of lingering legal issue, but whatever it is, you'll be pondering it later this month, especially from April 28th through May 22nd.
It's possible also with the Mars slowing down to a halt mid month and then turning backwards starting April 17th that you will find you will need to rethink your Home Life situation. Maybe you've gotten into school and it will require relocating for a period of time. Maybe you want to sell a place and move to another place. Whatever it is, you'll have time to think about the best plan of action for you. Virgos don't like to do things willy-nilly, and it will be important for you to not take any action until the start of July at the very earliest. Otherwise you may be jumping the gun and starting something without getting the full picture. Oftentimes in Retrogrades, you will gain information that otherwise you did not have before the retrograde period, and this is information that you will have to incorporate before moving forward again.
During the Retrograde, you might need to shift in terms of your plans given new aspects that come to light. For Virgos this process will be amplified while we have Retrogrades with two personal planets, both Mars and Mercury, your ruler, from April 28th through May 22nd.
If you're feeling antsy dear Virgo, get out your journal and start writing out what's going on for you. I bet you will find lots of inspiration and even come up with some insights on the messages that you're supposed to be receiving from the Universe at this time!
April 12th an 14th will most likely be your best days of the month with good aspects to your ruler Mercury, first to Neptune the planet of Inspiration and Spirituality, and second to Jupiter, the planet of expansion. Plan to relax and rest the rest of the month and May, and let the universe do the talking!

Libra
Key Dates: April 12, 17, 22, 28
Aries rules your 7th house of Relationships Libra, and there are a lot of planets in Libra this month, so partnerships are highlighted. Whether they are business or romantic partnerships, you might feel as though your partner is going through some challenging times, or in fact may be a little aimless and without focus, not his or her usual get-up-and-go self. This is because Aries is ruled by Mars and Mars will be going Retrograde on April 17th, to review events that happened earlier this year. And for some people there was a tremendous amount of change right from the start for 2016. The people who had the most change in their lives will benefit the most from this upcoming Mars, Mercury, and even Pluto Retrograde, which begins the same day as the Mars Retrograde.
What does this mean for dear Libra who just wants everything to balance out and people to be nice to one another? It may mean you will have to accept that those closests to you are going for a ride on a rollercoaster even if you're not joining them for the ups and downs. Try and be as supportive as possible, for your partners will have your back once again starting in July, however, for the next few months they may be taking care of personal issues that need their attention and consequentially, do not have the time they usual would to focus in on their relationship with you. It's hard not to take personal relationships personally, however when the planets are Retrograde, and in this case during a long Mars Retrograde, it's the best course of action to take.
This doesn't mean that you'll have a bad April, as much will be accomplished the first half of the month and April 12 will be an especially good day for you as your Ruler Venus, will be in perfect harmony with Mars the planet soon to go backwards. Enjoy this moment and remember that Spring months have rain in order to have wonderful new growth and a lush Summer and Fall Harvest.
April 22nd, after the Full Moon, will have a surprise for you when your ruler conjoins Uranus, the planet of the Unexpected, close to the degree that we had our New Moon this month. Something you began on the New Moon of April 7th may come to an unexpected conclusion! Take care again on April 17th with partners as Mars goes Retrograde then, and also on April 28th when Mercury will go Retrograde in your 8th house of Secrets, Taxes, and Inheritance. You may find out important information during this Mercury Retrograde from April 28th through May 22nd, so keep open to hearing things that the Universe is trying to tell you!

Scorpio
Key Dates: April 7, 12, 17, 28
As you may or may not know Scorpio, before the discovery of Pluto, your current Ruler, Mars, was your ruler in addition to those born under the sign of Aries. Why is this important? Because not only is Mars going Retrograde this month, but also, your current ruler Pluto is as well. On the same day, April 17th. Your sign of partnership, Taurus, will begin a Mercury Retrograde on April 28th. And to top it off, Mars will be Retrograding from 8 degrees of Sagittarius back through 23 degrees of Scorpio! Kind of daunting, no? Well, many Scorpios wouldn't have it any other way! If any signs screams "We want challenges!" it's probably Scorpio. So while you may have an intense course to navigate this month, ultimately I think you will benefit greatly from the challenges up ahead for you!
The good news is that, unlike Aries, who's ruler Mars, goes Retrograde the most infrequently of all the planets, your ruler Pluto, goes Retrograde for half the year, every year. So you're used to long stretches of introspection, reflection, and some who might be a tad critical of such introversion, will say moodiness. No matter! You are the master of going deep inside when the going gets tough, so for you, you will have all the skills you need to thrive this Spring!
Since Mars rules Aries the general area of your life that you will most likely need to reflect on is the area of your Work, Health, and Daily Routine. They say that Habits are what drive us and keep us going even though we don't realize it. Didn't Einstein say that "Genius is 1% inspiration and 99% perspiration"? I think his point is that sometimes it's what you do on a daily basis that creates the foundation for success. Now is the time, Scorpio, to think about your daily routine and how your habits are contributing to your life, work, and general well being.
If you need to take some time off, or think about doing a detox, or cleanse, now is the time to do it! A Spring cleanse, of yourself, or your maybe cleaning your work desk, will help you start the process of re-evaluating your strengths and weaknesses. If you are a late Scorpio, you may feel this Retrograde more than early Scorpios, especially physically, so you may need to take more R & R this Spring! Don't push yourself too hard during a Mars Retrograde! Mars is the planet of action, but during a Retrograde the energy is reversed, so going forwards now is actually going backwards. That is the zen parable for you dear Scorpio! Ponder it!
April 7th we'll have a New Moon that may prove challenging in terms of emotional change! Enjoy the 12th as Mars makes a harmonious aspect to Venus. Stay alert as Mars and Pluto go retrograde on the 17th, and also on the 28th, when partners will be in just as much a muddle as you are!

Sagittarius
Key Dates: April 12, 14, 17, 22
Sagittarians are usually an extremely happy-go-lucky lot, however with Saturn in your sign since the middle of last year, you are realizing that even you have to operate under the laws of physics and on occasion keep your nose to the grindstone in order to get things done. In addition to having Saturn in your sign, this year you also have the distinction of having Mars in your sign for a very long time, as Mars is currently in Sagittarius and will Retrograde on the 17th at 8 degrees, and will only return back to the 8 degrees on August 22nd. That's a long ways from now. With Saturn in your sign you're beginning to see how to take the long view with things, and plan, plan, plan, and this Mars Retrograde will be yet another learning experience for you.
Mars in your sign may have given you a lot of energy recently, and you may have felt like you were making progress on things. Perhaps you've felt the momentum slow down a bit, which is exactly what is happening with the planet Mars. It's slowing down in anticipation of moving backwards in the sky. Especially if you are born in the early degrees of Sagittarius, you will feel like you need more time to rest and reflect on the progress you've made so far this and the events of 2016. The Mars pre-retrograde "shadow" period goes all the way back to February 17th, and 23 degrees Scorpio. This means that in addition to feeling physically sluggish, you may feel the need to reflect on what burdens you carry around in your psyche, for Scorpio is the sign of Solitude, Spirituality, and Visioning. An important component of Visioning is the ability to let go of what's not working for you, a sort of psychic re-boot and removal of unwanted thoughts and feelings from experiences that no longer serve you well. Therapy, cleasning, meditation, can all help with this process of re-booting.
Spring is the ultimate re-boot, so use this time to really delve into everything that has happened to you for the past two years since the last Mars Retrograde, two Springs ago, back in 2014. I bet a lot has occurred and it's important, especially with Saturn so close to your Sun to really see how far you've come so that you can feel as though you're really making progress. Sometimes, we feel like we're not making progress when we are. You can't hurry the seasons, but one can use time not sprinting ahead to re-evaluate what to do when Spring finally arrives! Take this Mars retrograde that lasts until the end of June, to really do a thorough personal cleanse and you will be able to be a whole you new you, once Mars arrives back at 8 degrees Sagittarius in late August!
April 12th is a lovely day with Venus in Aries in perfect harmony with Mars in Sagittarius! Enjoy the calm before the retrograde especially on the 14th when Jupiter, your ruler is Trine Mercury. Take care on the 17th, when Mars goes Retrograde in your sign, and rest if you need to. Watch for unexpected good luck when Venus and Jupiter conjoin in Aries a harmonious fire sign for you!

Capricorn
Key Dates: April 5, 7, 17, 28
Capricorns are serious people usually, and take responsibility to heart, and even more so now that Pluto the planet of Transformation and Power is taking the long journey through their sign. While you are the antithesis of the sign Aries, and you almost never rush to do anything, you may be in for some big changes this month in your home life as your nest is ruled by the planet Mars, which is moving backwards this month on the 17th, in addition to Pluto, which is also going Retrograde the same day in your sign. So while you may feel the farthest away from being an Aries, and you never usually rush to do anything Capricorn, this month will start a slow down and reflection time that will last until the end of June, for you in your area of Home Life, Family, and personal dwelling space.
You may be re-thinking where you want to live, want to sell your home, or have obligations that come your way with family who needs extra care during this time. You may want to do some renovations on your house, or re-financing. The New Moon on April 7th is also in your 4th house of Inner Life, and you will want to move forwards with top speed! You will probably only get so far, however, as with Mars and Pluto standing still on the 17th, you may encounter more set-backs than you would like. This shouldn't deter you Capricorn, as you know how to plan, and bide your time. It would be good for you to actually try and relax during this time, instead of constantly trying to forge ahead. You have a very good work ethic, but all work and no play make Jack and Jill dull boys and girls. No one wants to be dull, but working too hard in our typical American fashion can definitely be a culprit in this area. Many Americans don't even take all of their vacation because they are afraid they will be penalized for it, yet more and more studies show that if you take a break, you come back refreshed, and ready to take on new challenges!
So it is with Mars Retrograde, that the planet of Action is taking a break, so that it can start fresh in July and August moving forward in a new direction! If you're not moving, or thinking of moving, this would be a great time to rethink about spending more time in your apartment or house. With Capricorns dedication to career, maybe you simply haven't been spending hardly any time nesting in your home. Now would be the time do that, and really tap into your inner child, so that come later this Summer, you can start to blossom outward again!
The first half of the month is great for making key moves. April 5th has the Sun trine Saturn, your ruler, and the New Moon has the Moon trine Saturn. Even with the unexpected element that may come up for this New Moon Cycle beginning on April 7th, as the Moon is Conjunct Uranus, you'll fare well for this month overall. On the 17th the winds change and going with the flow is the only answer so be open to putting off your to-do lists for later, as Mars and Pluto go retrograde then. The 28th gives you even more reason to simply go home, relax, and take a bubble bath, as Mercury goes Retrograde in Taurus until May 28th. Be sure to lather on the body lotion after soaking in the tub and get a good nights sleep.

Aquarius
Key Dates: April 7, 9, 17, 22
April may be a month filled with lots of surprises, even for an Aquarian! Aquarians are ruled by the planet Uranus, the planet that is tilted on it's axis and just has to "do it's own thing!" even though all the other planets axis run the traditional North/South. What does this mean, that what for some would be called "unconventional" is the "conventional" for the Aquarian. The predominant theme for Aquarians, is the great amount of aspects to Uranus this month! We start out with the New Moon in Aries with the Moon conjunct Uranus, followed by the Sun conjunct Aries on April 9th, and then on Earth Day, April 22nd, Venus is conjunct Uranus. The personal planets are all getting an extra dose of the Uranus unconventionality, which should supply a great deal of Change and the Unexpected wherever Aries is your chart.
For you, Aquarius, Aries is in your Third house of Communications, Writing, Short Trips, and Siblings. The house ruled by Mercury and associated with the sign Gemini. So you may find that you feel the need to say things you haven't said before, or take a quick trip to a neighboring city spontaneously, or maybe you'll get sudden news concerning your sister or brother. Whatever it is, will most likely be positive, especially in the first half of the month. By the time April 17th rolls around you may be in a muddle on how to best express yourself, as Mars will be going Retrograde then, as will Pluto, which rules your 10th house of Career and Public Position.
Mars is in Sagittarius at 8 degrees when it begins it's Retrograde, and this is in your 11th house of Friends and Groups, so you may have cause to rethink certain social situations in which you're currently involved. However, the Retrograde continues backwards into Scorpio back to 23 degrees, so there will be an equal amount of reflection and retrospection going on regarding your Career and whether the work you are doing is fulfilling your mission in life. There is a difference between "work", which is considered a 6th house activity, vs Career which is a 10th house position. It's the age old dilemma between having a jobby job and having a career that makes your feel fulfilled in the universe. You may have more ennui than normal Aquarius starting April 17th through the end of June as you really evaluate how and what you want your life's mission to be.
Don't worry if you don't know immediately. The thing about Retrogrades, is that you are taking a "time out" from the normal routine to really figure things out. You're not supposed to be moving forward during this time, in fact, astrologically it's not advised. Instead, you're supposed to be going inwards, thinking, and reflecting to see how the inner has been manifested as the outer in your life. If you don't like how the outer is looking, (or the inner for that matter), now is the time to rethink and brainstorm what steps you may need to take after Mars goes direct in July and August to really be on the path that you need to be. Get out those old journals and vision boards you have Aquarius and get ready to start writing and re-visioning your life!
You will also potentially be re-thinking your home situation as well later this month, when Mercury goes Retrograde in Taurus, which is your 4th house of Home Life, from April 28th through May 22nd. Although not as long a retrograde, this may be a good time to do a Spring cleaning or re-think how your home is either supporting you, or not. All in all, the next few months are a key time for you to really think about the Inner vs the Outer and how each may need to change for you to be your best Aquarian Self!

Pisces
Key Dates: April 17, 21, 28
Pisces are currently having their own ruler, Neptune, slowly transit through their sign. This is good and reaffirming for Pisceans as it gives you an opportunity to really feel and flow with the Universe, which is one of the main activities that you enjoy! You too however, will be affected by the upcoming Mars Retrograde on April 17th, which will go Retrograde in your 10th house of Career Life, moving back into your 9th house of Higher Education, Justice, and Foreign Travels! You may during the next couple months, begin by re-thinking what you want your next move in your career to be, and then perhaps decide that you want to either take an exotic trip to broaden your perspective or take a few classes to further your Career, or even perhaps go back to school for some time. With Pluto going Retrograde also on the 17th it seems as though you will be thinking a lot about Higher Education, or Overseas Travel.
All of this may cause you to rethink your finances, as Mars rules the sign Aries, and that sign rules your second house of Finances! All of these plans that you might envision may take a toll on your pocketbook, and you may need to be an extra creative Pisces in order to figure out how best to finance your Around the World trip or going back to school to get that Extra Degree. This does not mean however that good things will not happen this month, because with all the planets in Aries, this month, and good aspects for the first half of the month, you may be on the road to figuring it all out and moving ahead financially, only to encounter a few roadblocks that will start with the Mars Retrograde and last until the end of June. Do not despair though for Retrogrades only last so long, and if you do know what it is that you want to do, simply bide your time until July and August and you can start to put into action your plans then!
On April 21st the Full Moon in Scorpio will be in a lovely harmonious trine to your ruler Neptune, so you may see some sort of fulfillment in the area of your career, even if there may be a few delays. Maybe you have a plan that has been accepted but it will officially start on the calendar later this Summer. That's OK, so don't be disappointed that things are not starting now. Retrogrades are a time of Reflection and Introspection, something you do very well Pisces, so go with the inner flow for the next couple of months and you will move ahead nicely come later this Summer. Mercury will go Retrograde on the 28th in your 3rd house of Communication, Short Travel, and Siblings so it's possible you'll need to travel somewhere to help a brother or sister in need, or rethink a creative writing project or screenplay you might have. If you can go with the flow, and I know you can Pisces, these lazy days of Retrogrades can be extremely creative! Just wait until later this Summer or even Fall to enact all the great ideas you'll come up with over the next few months!
---