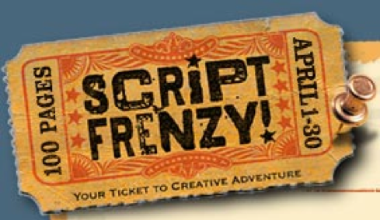 Ok, so Mercury is going Retrograde today.  Are you wondering what to do with your time during April when Mercury might officially stymie your movement officially "forwards"?  Especially since Mercury will be going Retrograde in the sign of Aries, which is the sign of direct action and adventure?
Well, why not sign up for "Script Frenzy!" brought to you by the folks of NaNoWriMo? Ok, so my journey into writing in November didn't result in a 50,000 word novel as I only got to 34,500. But hey, that's 34,500 more words than I had before November began! I'm always wiling to pat myself on the back for baby steps (as I think everyone should) and therefore I'm willing to give writing a 100 page script a shot come April. Although some astrologers say there might be snafus around Mercury related activities while it's Retrograde, I actually find that the reflective process of writing is often enhanced while Mercury is moving backwards. It might mean that you'll have to do revisions later, but if you're writing a 100 page script in a month, you'll have to do revisions no matter what!
So why not use those last days of Winter and get your creative mind to the gym? Who cares whether or not you're a writer (I mean really, some official "writers" can be pretty awful! Therefore, so can YOU be an "official" writer, even if you suck!). Perhaps your inner creative genius just needs a little unleashing! Can you tell I'm not into status or caring what the Joneses do? Well, I suppose with a blog called "Astromuse" you would have assumed that by now!
---