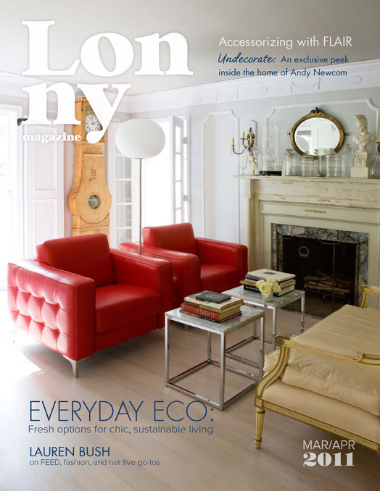 I am afraid that I may be going through some kind of permanent nesting phase, given that I've taken recently to curling up in bed with my old Domino's before retiring for the evening. I've also been bizarrely (for me that is) interested in cooking, which is normally not my favourite thing, only because it takes away from all of the other things that I could be doing at the moment.
So, although I'm sure you're all devoted readers already, check out the online Lonny Magazine's March/April issue! It's sure to delight and give inspiration for Spring, whenever it might decide to get here. I know I've been searching for a special "project" or something to take me from the Spring to the Summer months (last year it was finally getting a BBQ and getting my grill on), but I don't feel like I've found it yet. I like to feel like I'm on an adventure when the weather gets warmer, even if it's the simple adventure of learning something new or doing something I haven't done before.
I must give this some thought. Mercury Retrograde is here, so it's the perfect time to take a "T.O." and reflect on the first start of the year and contemplate what you'd like to achieve for the months ahead.
---