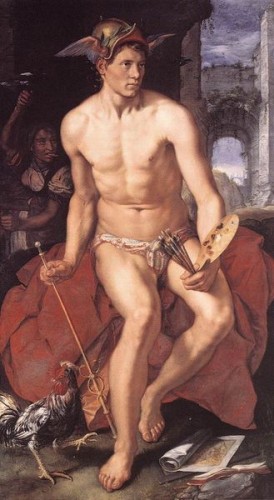 By tomorrow at 7:06 AM EST, when many of us will just be waking up, Mercury will begin it's nearly three week journey moving backwards through the Heavens. I mentioned a little bit in my post earlier this week about how Mercury will be moving back through the early portion of Capricorn through mid Sagittarius retrograding over the Solstice point, rather near the Solstice itself!
But what I did not mention, was that Mercury will begin it's retrograde motion, tomorrow, when it is just 1 degree past the planet (ok dwarf planet!) Pluto, which is now in the sign of Capricorn! This is important for a number of reasons. First of all, Pluto is the planet about Big Hidden Secrets that suddenly are "not so hidden anymore." Mercury is the planet about Communication. Can we say "WikiLeaks disaster?" Can we also say "Federal Reserve 3.3 Trillion loan scandal?" Let's also notice how BOTH of these "communications" (Mercury) deal with the government (Capricorn) and are rather scandalous (Pluto).
It's important to also understand how in mythology Mercury is represented by Hermes (not the luxury goods brand!). One of the many important functions of Hermes, is that he is the God of Boundaries. And because he is the God of Boundaries, he can cross into other worlds unscathed, in particular, the Realm of the Underworld, run by, you know who, Mr. Pluto, also known as Hades.
This is why this conjunction of Pluto and Mercury before going retrograde is SO important. When conducting souls to the Underworld, Hermes is known as Hermes Psychopompos. For more info on psychopomps read here. While all Mercury Retrogrades involve some aspect of "crossing-over" to another place or state, usually aspects of the past, or something "departed", this one I think will very much prove to be extremely important in helping us "transition" to a new place that will lead to new experiences in 2011.
I often find that sometimes events from past Mercury Retrogrades connect themselves during the retrograde time. So look back to the time from December 26th, 2009 through January 15th, 2010, April 17-May 11th, and August 20th-September 12th to decipher if there is something that may thread through these dates, a common theme. I can already see one for my life, that literally it's almost like a story that gets a "To Be Continued" in the next Mercury Retrograde. I'm not sure if I should be excited or a little wary of what's going to come next! We'll find out, won't we?
image above "Mercury" by Hendrick Goltzius 1611
---