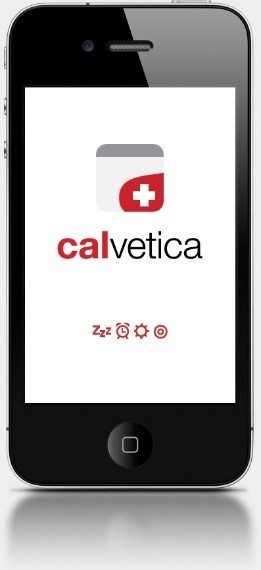 I think I previously disclosed that I am a planning junkie. Therefore no one should be surprised that I have yet another iphone calendar app to recommend to you all! And with the New Year coming up if you're in the market for more organization in your life this is the time to start your planning. This app I think really tops the cake for bells and whistles, with the ability to sync with Google Calendar, have multiple calendars, movable events, alarms, notifications, multiple ways to view the day, and even the week, and to top it off, a clean and minimalist design!
The app is called Calvetica and you really can't go wrong shelling out $2.99 for it, or if you're on a budget you can get their Calvetica Narrow version which has many but not all of the bells and whistles in the paid version. Even the Narrow version is a glory to behold and the full Calvetica is just short of life transforming (that is if you're a calendar junkie like myself!). If you want to compare the two before deciding which one to get here's a comparison list (boy do I love those comparison lists!).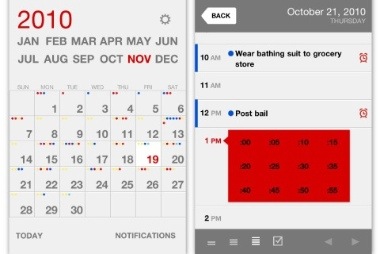 Now let me say that people at work in the past have distinctly noticed that I have usually not one, nor two, but three calendars on my desk at all times. This is of course because I like to see what day it is in three different ways, the actual day, the week, and then the month. Given how spaced out I can sometimes get in my thoughts, it's always good to be able to look around and immediately know what day it is!
Yet, I almost think that I won't even have a single calendar on my desk this coming year when I start my new job! I think that I will have all the calendars that I need in my iphone and that while at home I have my lovely and wonderful Linda and Harriet letterpress calendar, given that desk space is at a premium at work and that I will be putting all of my to-do's and appointments and lists in the mobile phone anyhow, I may actually forgo the hard copy desk calendar.
I think it's an amazing trend that moving towards mobile applications is really taming the paper clutter tiger that has always been my foe! One of my New Year's Resolutions is to sign up for eStatements for Credit Cards and Bills so that I will no longer have to worry about shredding and filing said bills. I already pay all my bills via my online bank account anyhow. This way if I want to save my bills I can archive them digitally with no messy paperwork.
Nothing will every replace a nice letterpress calendar, but I must admire the new levels of productivity and organization that all our new smartphones are allowing for us! We're getting close to a new year and let's remember that the ipad didn't even arrive until earlier in 2010! I wonder what marvels of technology 2011 will hold for us!
---