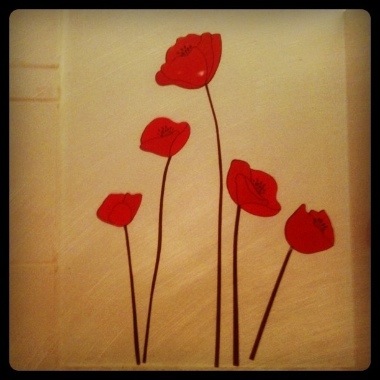 Last week was quite a week, complete with my birthday, a Machiavellian drama at work, a birthday book group with banner and (pink) tiara, a group of strange people who thought the end of the world was neigh, and culminating in what I termed my "leftover booze" birthday bbq! It was a smashing week!
Although mostly good things happened that week, I realized how important it is to start the day right! It's important if one is facing nefarious individuals at some point during the day to start on a positive note. Doing a little mediation, having a good breakfast, and in particular, seeing something pleasant while you're getting yourself ready in the morning.
To that end, I had recently decided that my bathroom, although small, does not need to be drab. In looking for something to spice it up a bit, I thought about adding some color, but then realized I wanted a bit more than that, and finally found what I wanted in these poppy decals! Not only easy to put on and then remove, they add an instant sense of Spring no matter the season. That's something to put a spring in your step for sure no matter what you have to tackle during the day!
---