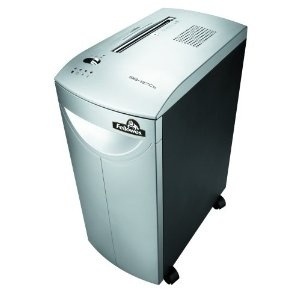 This week started with a bit of a panic attack on Tuesday when amazon.com emailed me to say that someone had opened up a new account in my name and used a credit card of mine to purchase items. They said I should check my credit card statement and call the credit card to let them know which charges were fraudulent.
As someone who years ago, bought a heavy duty shredder large enough to have some people think I'm a bit overly concerned with identity protection (but that guy was from Fargo!) I was a bit upset. Luckily amazon.com caught this and alerted me before too many charges were posted, but still, with this never really happening before, I began to ruminate on where I might be going wrong in protecting my identity.
I should say that I know at least 3 people whom have had their entire identity stolen and spent years trying to get their financial lives back in order. And yes, I have seen people rummaging through the recycling papers outside my apartment building (and I don't think they were looking for a coke can to cash in). Which is why I advise anyone to consult this list of what to shred. It's really easy if you get in the habit of getting the mail, and then shredding what needs to be shredded immediately. Basically, anything with your address on it should be shredded.
The first thing that I did after calling up the credit card and getting the stolen number cancelled, was get a copy of my free credit report to make sure no new accounts had been added. Even though that was all good so far, I started reading more, and discovered that if I wanted to, I could put a fraud alert on my account for free for 90 days. This means credit card companies are alerted to hopefully take greater precautions if someone tries to open up a new line of credit in my name. They theoretically should make sure to call me at my listed phone numbers, although they are not required by law to do so.
If I were even more concerned I could put a credit freeze on my account, which would make sure even if someone had my date of birth or social security number they couldn't open up an account in my name.
That's when it hit me! The one thing that I've been doing lately is writing cover letters and sending out my resume like a machine! And since I'm so old school, I haven't left off my address on my resume, and have applied to some jobs (which might in fact be legit, but there's no way of knowing) on Craigslist. Then I found this article of protecting your resume from identity theft. I've decided to leave off the home address and the home telephone number, although keep the cell on the resume. And yes, I did put that fraud alert on at the credit reporting bureau. Perhaps someone just got a hold of my credit card number from a local business and it had nothing to do with my resume, but with the increased PR of my job search, I want to gain a new job and not lose my identity in the process!
---