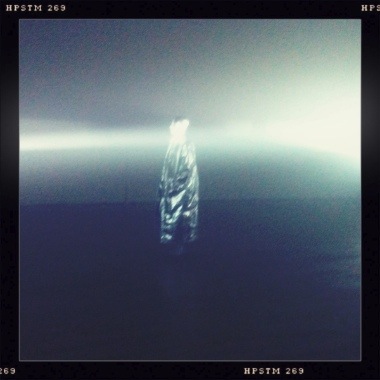 (image taken at PS1's "Move" Event on October 31st)
If any of you happened to be near my neighborhood this week and heard screaming it might have been me (although I assure you I was only using my "inner" scream!), as I tackled one of my most challenging apartment reorganizations yet: The Paper/Filing Reorganization!
Yes, I am one of those people who keeps every scrap of paper relating to my financial life in the fear that someday, whether for insurance or whatnot, someone will require me to provide proof of ownership or show every single Con Ed bill that I've ever paid. However spending all of this time in my apartment lately has driven me to a cleanup worthy of some extreme home makeover show! And this week I took years (and years) of bills, credit card statements, and paychecks and shredded them. I feel the current Venus Retrograde we're in (which will continue until November 18th) has given me support in this apartment cleansing so to speak (as did a glass of wine the other night when things got a little overwhelming). I certainly am "letting go" of many things and making way for the new of the future.
Speaking of things turning around, today Chiron, the "Wounded Healer" asteroid goes direct at 2:44 pm EDT at 26 degrees Aquarius. Also, Neptune, the planet of "Dreams, Visions, and Spirituality" will turn direct on Sunday morning at 1:05 am EST (remember to turn those clocks back one hour as well!). Neptune will turn direct at 25 degrees Aquarius so you will see that these two planets are conjunct!
Neptune has been Retrograde since May 31st and Chiron since June 4th. Perhaps not un-coincidentally as my Midheaven (ruling public position and career) is at 24 degrees Aquarius, it was during this time of their Retrogrades that I was laid off and have had to RE-evaluate my career (and I did feel like the "wounded warrior" in relation to my job).
So if your dreams have been wounded and have been in need of healing for the past five months, perhaps now with these two planets going direct soon things will start to turn around as well (especially wherever Aquarius is in your chart!).
We will also have an important New Moon tomorrow morning at 12:53 am EDT at 14 degrees Scorpio, which is the degree at which Venus began her Retrograde motion on October 7th! So this New Moon and the month ahead might provide further enlightenment on this particular Venus Retrograde cycle! Hope everyone has a relaxing and refreshing weekend ahead!
---