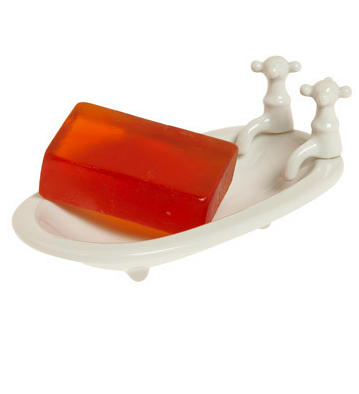 Three men in a tub? Wait a minute! Who wrote this song anyways?!?
If the upcoming holidays are stressing you out instead of cheering you up, why not rest up during this Thanksgiving weekend and take a nice long hot bath? Preferably in your clawfoot bathtub! Wait you don't have a clawfoot bathtub? Me neither! I don't have a fireplace either. Sucks to live in the city sometimes in the Winter. But then again, there's no shoveling snow so I guess that evens it all out. . .
However if I had more countertop space in my miniscule bathroom I might be asking for this adorable "Rub-A-Dub Tub Soap Dish" from Modcloth for Christmas! Because it would be perfect to look at while bathing and fantasize that I was lying in a big old clawfoot bathtub in some old house somewhere beautiful but hidden away from the worries of the world. . .
Speaking of holiday stress, my stress this year comes from trying to finish ye old NaNoWriMo on time! I started a week late and had been writing over 2,000 words a day for around 15 days until yesterday, when after finishing setting up two professional websites for myself, I realized I just couldn't eek out 2,000 or even one more! I hope after yesterday's hiatus I can get myself back on track, but have decided that deadlines are sometimes there simply to motivate you not to impale yourself on, and realistically, if I can get 50,000 words by the end of 2010, hey, that's an accomplishment in my book!
So here's to the time of year where you're off the hook on many things-exercizing, overeating, sleeping in on the weekends, pretty much anything that resembles a kind of hibernation. We may not be bears and do a full hibernation but I do believe that one should act according to the season. So drink up that rum punch and stop being so hard on yourself for the next month! Lord knows come January we'll all have a dozen resolutions to keep us on the straight and narrow!
---