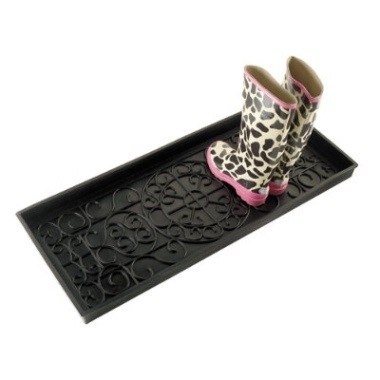 I can't take it anymore! The snow and ice that is! I know the past year has had some shocking weather, but the tornado and storms that we've had previously have come and gone in a flash. This snow however is going to stick around until April the way it's going! Yeah, maybe some of the streets will clear up by March, if we're lucky. But those growing mounds of snow on street corners will stick around for longer than we'd all like! I feel like I have cabin fever and yet whenever I go out and come back inside I'm even more dismayed that somehow, even though I stomp my boots on the now 5 hallway entryway mats and then the mat in front of my apartment, there still lingers packed snow that melts on my wooden floor. It's always the little things that get to one!
Finally, I decided I couldn't take it any more and have ordered a "boot tray" for just inside my apartment! I would have ordered the one above from Ballard Designs, however it was too long for where I was going to put it, so ordered one that looks almost the same except is shorter. They come in all sizes and kinds, rubber, galvanized steel, other metals, and are available even at The Container Store for less than $10. I liked the idea of the rubber ones in that they sound easy to clean and won't rust, and many of them have raised portions so that the water can drip down and allow your boots to dry rather than sit in water while drying.
I figure the tray should be handy for Summer flip flops and sneakers as well, given that whenever one comes home from the beach, ones shoes are always filled with sand! Oh, that seems so far away though! In the meantime it looks like we will even have more snow this week. I do hope my boot tray comes soon!
---