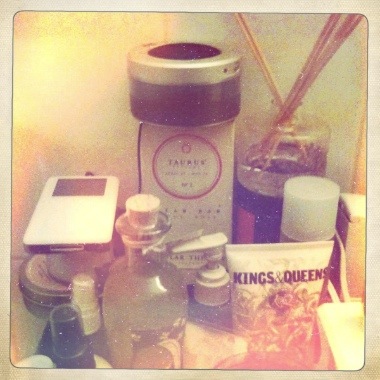 I have a tendency to keep things around for a long time. I even have some clothing that I made in high school, which is kind of scary if you think about it. I'm trying to mend my ways, and get rid of things that don't suit me any longer, but I do love re-inventing things instead of necessarily throwing them away. It's not only the creative solution, but sometimes the one that least adds to landfills.
Take for instance my 15 GB ipod from 2003, which still works and amazingly has decent battery life! It seemed like everyone already had one when I got it. It couldn't get any better than this–all those hours of songs on a portable device! The future had arrived! I was transported back to when I got my first Walkman in the early 80's, the Eurythmics, "Sweet Dreams (Are Made of This)" album as a cassette tape accompanying it. Since then new technology always makes me feel like a teenager!
But what to do when a 15 GB ipod from 2003 seems like ancient history? Well since I'm a working girl who enjoys relaxing in the bath after a long days work, the only thing that could make a bath better would be great music! But where to put said music? My bathroom is miniscule! So tiny that I put most of my bath products on a tray on top of the toilet tank (like I saw in an issue of Domino!). I figured if I could find a really teeny tiny stereo to accompany my now passe ipod I might have a great bathroom music setup!
With a little searching I discovered the Altec Lansing Ultraportable Speaker! Not only is it super small, and less than $20 on amazon.com, but you connect with a 3.5mm connector that works on almost any device (and you can buy a 2.5mm connector adapter if that's the size your device has)! The volume is controlled through your ipod so you can determine of how loud the music is and the sound (at least in the bathroom!) is amazing! Pop in a pair of eneloop AAA batteries and you have yourself a stereo fit for a queen!
With this new set-up, now when listen to music while I take a bath or a shower, I think "It can't get any better than this!" and I feel like I'm a teenager!
---