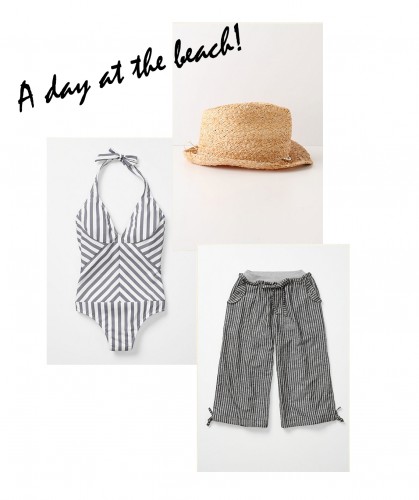 A day at the beach! That's what I had planned. And I had planned to wear the outfit above, courtesy of the sale section of Anthropologie. However, it's so hot here in Brooklyn, I realized at a certain point I just wasn't going to make it. My department got today as a "Summer Friday" and almost had me wishing they hadn't given us today, of all days, off. Mainly because my portable AC (friends, never, ever buy a portable AC!) is only able to crank out enough cooling on max to cool the bedroom of my apartment to the lower 80's. Which really isn't enough after too long in the apartment. I used to be able to handle the heat in NYC, and in fact went many a year without ac. I can't do that any more and now wilt when the humidity soars and the sun beats down.
Upon realizing that my beach dream wasn't going to happen, I knew I needed to find a better source of AC! I decided to put on the swimsuit, which I thought I could wear as a top due to the stripes making it slightly more dressy, add a short black skirt and the hat and head off to see if I could make to the one place I thought would have free decent AC: the library. I sprayed down my suit and hair slightly with the mister I usually reserve for my plants and set off! Barely making it there, I did feel a tad underdressed for the library, and yet was not the least bit cold as I sat perusing the latest reads.
This whole, "wearing a swimsuit when not going to the beach" thing worked so well, I think I might wear swimsuits with pants and skirts during heat waves more often! For one thing, you can always hop in the shower, wearing your suit and then wander around one's apartment while the suit is drying cooling you off, which I dare say is not advisable while wearing regular clothing. One can also mist oneself on a regular basis, again not worrying about ruining clothing. Also, when walking home yesterday I passed a park with a water fountain and desperately wanted to jump in, but couldn't or else I would ruin my dress! With the swimsuit as  your base layer however, I could have just put my other clothing in my bag and run through!
So for those of you reading this in the half of the country with a heat wave going on, I highly recommend getting out your swimsuits and finding a way to pair them with other clothing to keep you cool throughout the day (and evening)!
---