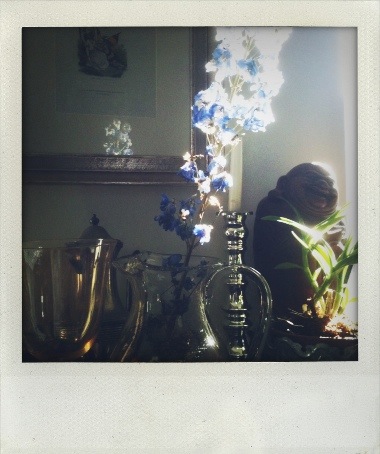 2012 has arrived! I feel it's lucky that 2012 began with the Moon in High Voltage Aries. I personally had a great time dancing in the New Year! Which is good since with Mars going retrograde too soon for my taste on January 23rd, and staying that way until April 13th, we all may feel the slowdown, and like fish trying to swim against the stream. Mars is already slowing down; while in a normal two week period it might move 10 degrees, it will now move only 2 degrees until it goes retrograde in two and a half weeks!
So while I'm not really feeling very New Year's Resolution inspired this year, If you do need to start something important start it now! Even by the weekend of the 20/21st I would not recommend initiating anything new. Mars rules action, and when it goes Retrograde, reviewing, resting, and relaxing, are the order of the day not running out and starting dozens of new projects! If you want to revise or finish something that you've already started however, or rethink a plan, or even re-decorate your home, it's not a bad thing, and in fact you'll find you'll be helped along in that area. Given that this Mars Retrograde will be in Virgo it will be an even better time to re-organize or de-clutter anything that needs it!
Don't even get me started on how Venus will be going Retrograde in May before we've even finished the Mars Shadow once it does finally go direct! Let's just say I'm not planning anything big to get started until at least July or possibly August, and what I do expect is that the cards of my life are going to get reshuffled around in ways that I least expect it! Hopefully through everything though, we'll all get some very much needed down time and relaxation for the first half of the year. While resting and taking time for renewal aren't always popular things to do, they're very important if one is going to continually grow! So I'm dubbing the first half of 2012 as "Project Renewal" because we're going to get so many opportunities to revise and renew in our lives!
---