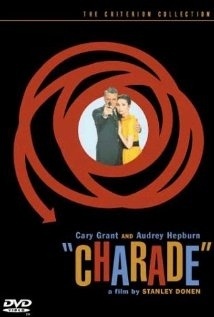 I'm not sure how many of you out there have seen the movie "Charade" from the 60's. But if you've seen this gem starring Audrey Hepburn, you'll know that one of the key components of the storyline is that the male lead whom Cary Grant plays, is never whom he seems to be until the very end. Sometimes life really does imitate art in this respect. Often, we are kept guessing as to people's true identities, whether they're really who they say they are, or pretend to be. For everyone loves to have a personality to show the world, but personality in action is what counts!
The events of life, especially the events around eclipses, can also keep on guessing, often with big reveals either near the day of the eclipse or almost a month afterwards. There can be lots of drama around eclipses, and this Solar Eclipse should provide a great deal given that it will contain a grand cross of Sun oppose Pluto (Boss Man of the Underworld) both square Saturn (Karma always comes around) and Uranus (You Didn't See That Coming Did You?).
The chart below shows the Eclipse today at 4:53 am EDT. In contrast to the Summer Solstice, it seems for those of us here on the East Coast, the chart speaks of big changes in the area of Relationships (Pluto in the 7th house), possible familiar or romantic obligations (Saturn in 4th/5th house), Unexpected Changes in Career (Uranus in 10th house), while trying to stay centered on Nurturing Oneself (Sun/Moon Eclipses in Cancer in First House).
The effects of this trio of eclipses may take the entire Summer to unfold. But expect surprises and revelations and choices to made up ahead! In the meantime, sit back and listen to the "'Charade' July Solar Eclipse Mix Tape!"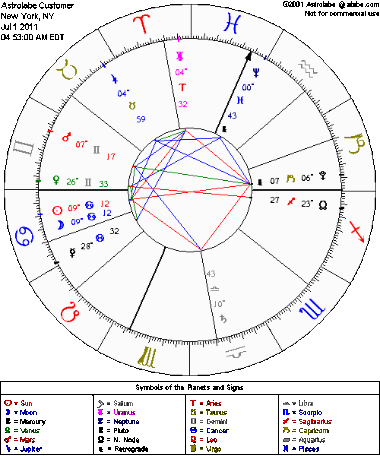 ---